Vocational Training Youth
Youth unemployment and unemployment in general are a major socio-economic and political problem in Ghana. Employment growth, especially in the formal sector, has not kept pace with economic growth in recent years. Job creation was also far from sufficient to meet the increasing number of young potential newcomers.
[learn more]
While the employment problem affects the whole working population, its impact on adolescents is particularly pronounced as their unemployment rate or quota tends to be higher in precarious jobs or in the informal sector.
Figure 1: Age distribution of the population 2000-2015, (%)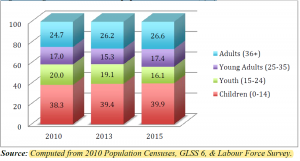 Youth unemployment challenge is one of the key issues that dominate the political discourse in the last years, but a solution to the problem remains elusive. 15-24 years is mostly new entrants into the market from different levels of education, with limited or no work experience.
Commencement of vocational education and training after graduating from school, is a key factor to overcoming youth unemployment and work in the informal sector. Our association Ausbildungshilfe Westafrika AHWA e.V. addresses exactly this issue. We want to offer young people with fewer opportunities a vocational training in craft-based industries in our vocational training center in Accra after graduating from school.
There is a widely held view that government´s commitment to promoting Technical and Vocational Education and Training (TVET) was very low in the past, and it was evident in the low funding of TVET. In 2012, the total estimate spent on TVET accounted for only 2,9% of the total education budget. In addition or because of the low funding in TVET there were negative perceptions about TVET in Ghana, to the extent that many people see it as a dumping ground for those unable to advance through the grammar education system, from JHS to SHS through to the university.

Source: Youth unemployment and Joblessness challenge in Ghana: Revisiting the Issues, Prof. William Baah-Boateng, African Center for Economic Transformation, Department of Economics, University of Ghana, Februar 2018
https://includeplatform.net/downloads/youth-unemployment-ghana-revisiting-issues/
The new government under President Nana Addo Dankwa Akufo-Addo wants to tackle this issue with its National Youth Policy [link setzen: http://www.ghana.gov.gh/index.php/news/5301-http://www.ghana.gov.gh/index.php/news/5301-national-youth-policy-is-an-important-document-for-nation-building-nyanational-youth-policy-is-an-important-document-for-nation-building-nya] and by reforming the TVET sector [Link setzen: http://www.ghana.gov.gh/index.php/media-center/news/4475-technical-vocational-education-key-to-economic-transformation-president-akufo-addo] in order to make vocational training more attractive for the youth.